Circuits of the Sacred featuring Carlos Decena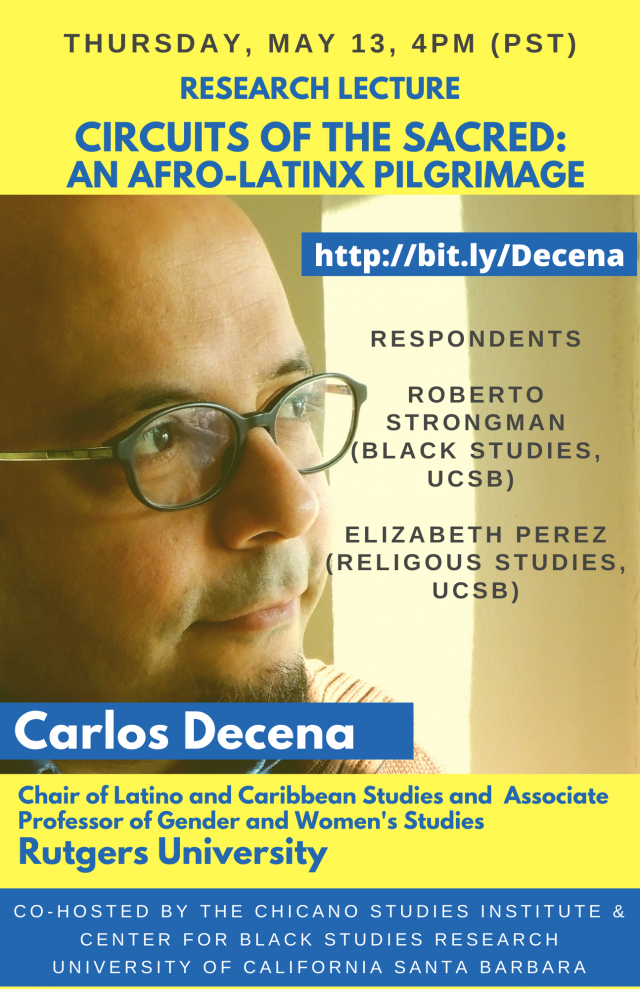 Join us for a research lecture by Carlos Ulises Decena about his manuscript, Circuits of the Sacred: An Afro-Latinx Pilgrimage. Professor Decena is an interdisciplinary scholar, whose work straddles the humanities and social sciences and whose intellectual projects engage and blur the boundaries among critical ethnic, queer and feminist studies and social justice. He is the author of Tacit Subjects: Belonging and Same-Sex Desire among Dominican Immigrant Men (Duke University Press, 2011). Currently, he is Associate Professor of Women's and Gender Studies and Chair of Latino and Caribbean Studies at Rutgers University.
Professors Elizabeth Pérez (Religious Studies, UCSB) and Roberto Strongman (Black Studies, UCSB) will serve as respondents. 
A draft of his remarks will be emailed to registered participants two days before the event. This event is co-sponsored by the Chicano Studies Institute and the Center for Black Studies Research.
REGISTER: http://bit.ly/Decena
PRE-CIRCULATED PAPER (optional)